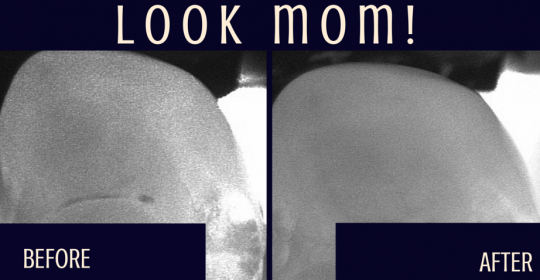 Look mom, no new decay!  One of our young nine year-old clients wanted to demonstrate and prove to his parents how well he is at taking care of his teeth.  Dr. Tatra and the team decided to help…
Using the CariVu tool, we agreed on taking an initial photo on October 20th, 2014 to show the current state of his teeth, followed by taking an additional photo during his next appointment.
With a plan in place and the client beginning his mission to protect his teeth, he left the October appointment noticeably excited and determined to maintain his good level of oral health. His parents had observed that while their son maintained his normal brushing and flossing routine, he seemed to take a greater interest and have more enthusiasm in taking care of his teeth.  Not only did he brush and floss by himself, but to the delight of his parents he also helped his parents teach and demonstrate to his little sister proper dental care!
Half a year later, the client and his mom visited Dr. Tatra and the team for his regular teeth cleaning appointment.  Sitting patiently while his teeth were cleaned, he was eager to take the second photo that would reveal the results of his hard work.
As the moment finally arrived, Dr. Tatra quickly captured and produced the second image for the excited client.  While the client was not surprised, his mom and the team were pleasantly surprised to see there was no new decay!  His healthy habits and enthusiasm clearly paid off with his teeth showing no difference after six months!
Dr. Tatra and the team are always active in helping clients of all ages, particularly children, to develop and maintain a positive and engaged approach towards their oral health.  By using technology such as the CariVu, we can engage our clients through interactive approaches to make oral health a fun and interesting experience.
Stay tuned for more blog posts about The Tatra Experience as well as tips and news from the clinic!  Remember to follow and like Dr. Sunny Tatra on Twitter, Facebook and Google+ to stay up to date with the latest news and tips!  To book an appointment with Dr. Sunny Tatra and his team, phone +1 250 590 0166, email, or fill out the online appointment form!
Leave a reply