Eating Healthy in the Fall Part 1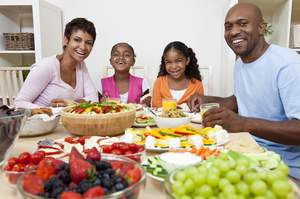 With the Fall season upon us, the days have become cooler and with it come the risk of colds and flus.  Thankfully, not everyone has to be sick.  By following these tips and eating some of these foods, you can ensure you and your family stay healthy and happy to enjoy the season.  
First and most importantly, make sure to stay hydrated with lots of water throughout the day to keep your immune system running strong.  While not it is not considered a food, the outdoors is a free and great way to stay healthy.  Whether it's sports, playing with your children, or just walking on a nice Fall day, spending time outside increases your vitamin D levels, makes you happier and improves your concentration.  
In addition to staying hydrated and enjoying the outdoors, the following foods will make sure your immune system stays strong and at its best.
Apples
Sweet or tart, apples are satisfying eaten raw as a snack or baked into a delicious dish. Just be sure to eat the skin—it contains hearty-healthy flavonoids. Health benefits include:
• Full of antioxidants
• 4 grams of dietary fiber per serving
Brussel Sprouts
Made the correct way, these veggies taste divine. They have a mild, somewhat bitter taste, so combine them with tangy or savoury sauces, like balsamic vinegar. Health benefits include:
• 1/2 cup contains more than your DRI of vitamin K
• Very good source of folate
• Good source of iron
Parsnips
Though these veggies may resemble carrots, they have a lighter colour and sweeter, almost nutty flavour. Use them to flavour rice and potatoes or puree them into soups and sauces. Health benefits include:
• Rich in potassium
• Good source of fiber
Beans
If you do one thing to improve your diet this fall, eat 3 cups of beans each week. Besides being a comfort food, beans add flavour and texture to soups, chili, and casseroles. They're also a great salad topper.  Health benefits include:
• Rich in protein, iron, folic acid, fiber, and potassium
Raw & Living Foods
Raw and living foods contain nutritional, digestive enzymes that are compromised when food is heated to about 115°F.  So instead of cooking vegetables, like carrots or celery, try eating them raw as a snack for an added health boost.
Pears
The sweet and juicy taste makes this fruit a crowd-pleaser. Cooking can really bring out their fabulous flavour, so try them baked or poached. Health benefits include:
• Good source of vitamin C and copper
• 4 grams of fiber per serving
Cauliflower
The sweet, slightly nutty flavour of cauliflower is perfect for winter side dishes. It's wonderful steamed, but it can also be blended to create a mashed potato-like texture or pureed into soup. Health benefits include:
• Compounds that may help to prevent cancer
• Phytonutrients may lower cholesterol
• Excellent source of vitamin C
Rutabaga 
A cross between a turnip and a cabbage, rutabagas are a popular Swedish dish. To utilize their earthy flavour, add them to casseroles, puree them with turnips and carrots to make a sweet soup, or roast them with ginger, honey, or lemon. Health benefits include:
• Good source of fiber
• Good source of vitamin C
Stay tuned for Part 2 of even more healthy foods to help you stay healthy.  Which are your favourite?  Which have you tried?  Have a recipe to share?  Comment below and share your thoughts about Fall foods!
Follow and like Dr. Sunny Tatra on Twitter, Facebook, Instagram and Google+ to stay up to date with the latest news and tips. To read client reviews or to share your own experience, visit our RateMDs and Yelp pages. To book an appointment with Dr. Sunny Tatra and his team, phone +1 250 590 0166, email, or fill out the online appointment form!
https://www.sunnytatra.com/wp-content/uploads/2015/10/African-American-family-meal-father-mother-children-healthy-fruits-cheese-vegetables.jpg
199
300
Experts, Vancouver Island Victoria Dental
https://www.sunnytatra.com/wp-content/uploads/2021/03/dr-tatra-logo.png
Experts, Vancouver Island Victoria Dental
2016-09-23 13:30:49
2021-04-20 14:01:13
Eating Healthy in the Fall Part 1