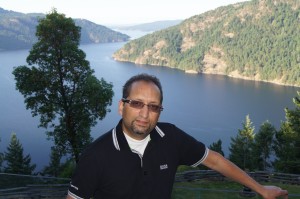 Originally a prairie boy growing up in Calgary and hanging out in Banff, I attended dental school in Vancouver at UBC.  It was a good choice as I decided not to go to U of S, U of M or Western so as to avoid cold winters.  After dental school graduation in 2003, I was fortunate enough to have my first posting as CFB Esquimalt in Victoria.  This was the first time I was posted to a navy base, or the coast over my 16 years of military service. Yes, I was fortunate enough to have most of my education paid for by the Canadian Armed Forces. 
My educational background includes a BSc in Biochemistry and Botany; a MSc in Plant Molecular Physiology and Gene Expression; and a DMD.
Both my best friend/wife and I fell in love with Victoria and what it had to offer.  We decided that we would try and stay in Victoria and raise our family here.  I soon started to look for places to moonlight … and ended up working at Bayshore Dental and Cresta Dental while completing military service here in Victoria.  Soon after, in 2004, we found our property to build our home on, in the Malahat.
By the time October 2006 rolled around, we were excited to find out that we were expecting our first child.  This was a very exciting time for us. We started to build our home in February 2007 and prepared to buy half of Bayshore Dental as I was able to retire June 4th 2007.  Our firstborn beat my retirement date by 10 days … what a happy way to start my military retirement and the take over of half of Bayshore Dental.
Over the next few years we were busy getting established full time in private practice at Bayshore Dental, and carrying on as a director for the Victoria and District Dental Society, a position I have held since fall of 2004, amongst other volunteer originations and associations I belong to.
On May 28 2008, just after our first child turned one, we moved into our new home in the Malahat, and soon were excited about the arrival of our second child.
Fast forward 6 more years and now we are moving our clinic out of Bayshore Dental as the two practices comprising Bayshore Dental (originally established in 1977 by Dr. Don Bays) have just gotten too large for the space… thus the decision to move and establish a new office and brand! 
I enjoy dentistry in all of its facets, love working with my staff and for my clients and their needs. Thanks to the many long continuing education courses provided by the military, study clubs, pacific dental conference and many hours of work, there is not much that I am not comfortable treating, or many procedures I avoid doing! I truly love my clientele, staff and my chosen career!
I hope the move to the new office at 905 Gordon St will provide a healthy and happy environment for our team to continue to work towards a patient centered , stress free, calm and satisfying experience for both our valued clientele and our team alike!